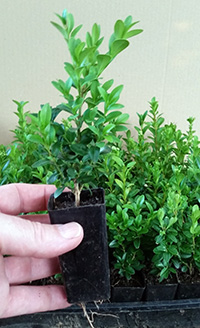 Trays of 42 English Box Hedge Plants at $65 per tray
----------------------------------------------
----------------------------------------------
EUONYMUS TOM THUMB
TRAYS OF 42 TUBES $65
----------------------------------------------
_______________________________
JAPANESE BOX
TRAYS OF 42 TUBES $65
English Box hedge (Buxus Sempervirens) is a popular variety of plant used for formal borders and medium sized hedges. Dark green, dense, slow growing foliage that is easily maintained and trimmed to shape. It is a very hardy plant suited to a wide variety of conditions and levels of gardening expertise.
AFTER AN INSTANT HEDGE? TRY THESE 250mm POTS.
With plants that are up to 50cm tall and 25cm wide
- four per metre will give you a half metre instant hedge.
At $30 each that works out to $120 per metre for an established instant hedge half metre tall.

Shown here are four 25cm pots.
As you can see they form a continuous hedge that would trim neatly to 50cm
AVAILABLE NOW 140mm POTS $6 EACH


This is a very popular size with people starting out with their hedge projects. Plants are 25cm tall and 15cm wide.




For other pots sizes and pricing
check the pricing page here
PURCHASING:
To purchase, contact Mark on 0417071341 or email me at mark@englishbox.com.au and I can supply a paypal invoice for secure online payment or make arrangements for any alternate payment method you prefer
DELIVERY
Available for all Melbourne locations and smaller sized or bare rooted plants can by shipped interstate by ordinary courier services. Orders of the larger sizes of plants can be shipped interstate by specialist plant courier.